It has been around a month since I was last at Transplant clinic and it's the first time that I've not had any problems in between, last time it was the bloating and slightly difference in my kidney blood results but they seem to have sorted themselves out now. It feels nice not to have had anything else major happen. The only thing that's been bothering me is the large increase in hair that's falling out!! Not loving that at all. It got so bad that I had to get a good chunk cut off to make it look healthier, this I believe is a common occurrance (well it is with us glasgow lot) It'll grow back but might take a while. Just another possible thing that might happen around 8 months after transplant. I also decided that I hate the colour of my hair now!! Well I personally like it but I just feel like everyone has it dark red now and it just doesn't feel as special as it did when I had it like this a couple years ago, so in a couple months I'm going to get it back to the ginger colour I had before, I miss that!! I'm not sure if I mentioned that the doctors have decided I'm anemic and put me on Iron Tablets, they're horrible they hurt my stomach and make me bleed a little - not nice at all. I may have to ask to change to a different one!!

Photography class is going well as is dance class. I have realised that I can do the dances on the night but when it comes to remembering it I'm useless!!

A couple things are coming up with Live Life Then Give Life which I will fill you in on soon.

I will leave you with something that happened to Gregg and I today. We were in the food court in the St Enoch Centre because Gregg was hungry and we're both broke. We went up to a sandwhich place and stood at the counter looking at what they had to offer. One lady came up and said 'what can I get you' Gregg said we're just deciding and then two seconds later another said 'can I get you a drink' to which Gregg replied not yet. I told him I wasn't really hungry and he didn't want anything from it so we just walked away. I was pointing out the oreo slushy things they have in KFC when I turned to Gregg and this (I am fully aware I may sound really stuck up when I say this but you had to see her) tubby, blonde monster featured, common lady with really bad teeth was saying to Gregg 'that lady was being really nice to you and you just walked away' I had no clue what she was talking about but I assume now that she meant the women behind the sandwhich shop counter. Firsty we weren't rude to the people infact we commented on how we thought they were rude because they didn't give us a chance to see what we wanted to order. Secondly why would someone not even involved in the conversation feel the need to come chasing after us to 'tell us off', people really are strange or else she just wanted a arguement or fight which we were not willing to give her. We pretty much just looked at her horrendous teeth and walked away, probably pissed her off more than anything!! Frankensteins monster really shouldn't be allowed out in public ;)

V xx
Life is pretty consistent but nice at the moment.
David was a friend of mine, again I had never met him but I considered him a friend. Like me David had Cystic Fibrosis and was on the transplant list. He went on it maybe six months or so after me. David could be a right bugger, on the CF Forum he loved to wind people up and was never short of a witty or sarcastic comment and that was something I loved about him. He was a lot like me in that he worked full time way beyond when he should have and he was a fighter!! I continually told him that his transplant was going to happen for him and I was so sure this was going to be his year!! It wasn't to be though and David passed away last night, I'm told he was peaceful and pain free when it happened. I totally love the doctors and nurses for making comfortable and being there for him and his family!!
David messaged me on facebook when I thought I might have rejection the last time and said -
"This rejection malarki must be getting on your nerves, just remember what the doc said about that other patient and how much rejection he had and how well he is doing! Got to keep positive, if you're not how can I be?! :P"
I love him for willing me on when he had so much going on with him. He also talked a lot about meeting up with Team Glasgow when he got his transplant and will now and forever be the 4th Team Glasgow member. He will truely be missed by so many!!
I would say sleep peacefully but I want you to be up there in heaven going mad and causing riots, just generally having an amazing time - the time you should have been allowed here on earth.
Love always Victoria xx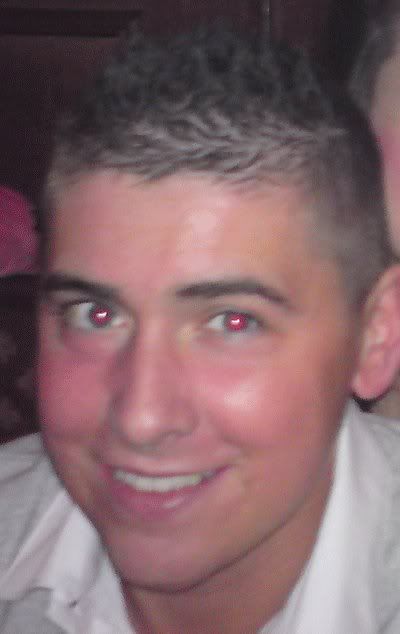 I can't help but feel sometimes that life is completely unfair!!


So something that has been annoying me! I feel really protective of my CF Team, I know they're not perfect but they kept me alive for Freeman to save me and I will be eternally greatful to them for that!! I hear people complain about the ward and being moved out of single rooms and into bed bays, threatening calling the papers over and over again, it makes me sad. The ward today is a far better place than it was when I first went to Gartnavel. For one thing we had small tv's with tape players that didn't even work, now the rooms have bigger flat screen tv's with integrated freeview and DVD player. They have fridges and get snack packs!! Not perfect I know but the team are doing their best with what they have!! They have a mass of CF patients and only two little wards that aren't even solely CF wards, basically they more often than not have more ill patients than beds!! I remember well being in a single room and getting moved out of it for a more critical patient and then I became the more critical patient and always got a room of my own. Being moved is frustrating but it's what they have to do!!

Moral of this story!! Life isn't always fair, get over it!! Harsh but true.

V xx
I'm at an Occupational Health Meeting for work, just finished and waiting for my taxi so I'm bored!!
Monday - 3.30pm onwards Musical Theatre Class
Tuesday - 12pm- 4pm Work and 8-9pm Dance Class
Wednsday - 12 - 4pm Work and 6-9pm Photography Class
Thursday - 12 - 4pm Work and 4.30-9.30pm Musical Theatre Class
Friday - 12 - 4pm Work and then I usually go out on Friday nights
This is the basic but sometimes I have things inbetween or after, like last wed Gregg and I went to the cinema and then yesterday I had a meeting about the Reunion Night I'm organising. No rest for the wicked!!
I arrived at the Musical Theatre Class on Monday to discover that the girls who usually help Donna with the dancing side of things were not going to be there and Donna was in a meeting so I had to start taking the babies class lol you should have seen me trying to do their dances with them!! I got through it though and quite enjoyed it!! I also had to help with the other classes, brush off my majorette skills and counts for the Hip Hop dance. It's something I would never have been able to do pre-transplant and just shows me how far I've come!!
Dance class was much more successful this week although I had an outfit dilema, I couldn't find my joggers and then my longer leggings so I had to wear my calf length ones and long socks over them to keep me warm. The socks just happened to be rainbow stripped ones, added a little bit of colour to the evening!! Something I have discovered is that I am useless at remembering routines!! We did the music video dance to Lady GaGa's Bad Romance, it was much more fun and harder work than last week. I'm looking forward to next week. Kirsty was in her element, she loves Lady GaGa.
Photography class was also good!! We learned about White Balance, which took us all out of Automatic and gave us a little control. I did photography modules when I was at University but that was nearly 10 years ago and it was all prints no digital, so I need to learn the digital controls. He set us a little assignment for next week, we've to take a portrait picture in all the different pre-set settings i.e. portrait, landscape, sport etc and see what difference they make to the same picture.
I'm going to TNA Wrestling tomorrow night with Gregg at Braehead arena, I'm quite looking forward to it!! Gregg has made me watch the last few weeks of it so I am up to speed and I'm told I'm not allowed to sit and be quiet I've to get up on my feet and chant away :)
V xx
Last week was long and non stop and this week is pretty much similar, here is my avarage week for the next ten weeks or so -
Here is the basic IMDB description -
"Maggie (Hathaway) is an alluring free spirit who won't let anyone - or anything - tie her down. But she meets her match in Jamie (Gyllenhaal), whose relentless and nearly infallible charm serve him well with the ladies and in the cutthroat world of pharmaceutical sales. Maggie and Jamie's evolving relationship takes them both by surprise, as they find themselves under the influence of the ultimate drug: love."
What that synopsis doesn't tell you is that Maggie's character has Parkinsons Disease and that the story is not only about their evolving love but dealing with the Maggies illness as she gets worse.
I saw massive parallels in this story to myself and Greggs relationship and I must admit I did cry a few times during it. Maybe I'm seeing similarities where there aren't any though. Like Gregg and I in the film they start seeing each other but only on a fun basis, nothing serious!! As time goes on though feeling develop and you become more deeply involved than you ever intended. There is a scene in the movie where she says to him something along the lines of "This is the first time in my life I've not felt alone" I think I've actually said this to Gregg :) It's funny though it completely taken me back to the time before transplant when I need Gregg there for me much more than he needed me. I remember one night a good few months into our relationships and we were supposed to be going out with a couple of my cousins but I was just so tired that when Gregg arrived I could hardley get out of bed, he got a little annoyed at me for not texting him to say I was feeling rough and not up to going out. I got really upset and told him that he should go out there and find a girl who wouldn't hold him back like I would but Gregg told me to stop thinking like that and if he wanted to be with someone else he would be. Like Jamie in the movie Gregg doesn't know how special he is he thinks that all guys would stick by someone who was in my position but we know better, he's a diamond in a very large pile of coal!!
She says to him in the movie "I've so many things still to see" and he says to her "You will but I might have to carry you" I believe 100% that Gregg would carry me if I needed him to and I would do the same for him.
I'm not saying we are both perfect or our relationship will last forever but just now is enough for me at the moment and just now I love him to bits.
Sorry for the cheese guys but I had to go there.
V xx
Like most romantic comedy's or dramas this movie has it's big heartfelt bringing the world to rights speeches but when you look at it's core, the parallels to real life are quite remarkable and I found myself relating to it much more than I thought I would going into it.
We met at mine since all the class was going to be in The Scottish Youth Theatre Building, I didn't know where this was so we walked past it twice in a different directions. Eventually we found it and headed in, I had borrowed some Jazz shoes off my cousin Donna because I own rubbish trainers. I take off my boots to put them on only to discover that they are two left feet :( Once I get over the shock of my useless Jazz shoes we're pointed to the pink room where our class will be. She starts the class with a warm up, then we get to balancing on one foot and stretching some muscles in your other leg. Jac can not balance to save herself, she likes to blame it on Tobramycn (which is one of the drugs we got regularly to treat chest infections) but she's not fooling anyone because both Kirsty and I were on it too and our balance is perfectly fine (well Kirsty's is debatable). Anyway she starts making up a routine to Independant Woman by Destiny's Child and I'm thinking right Beyonce is a Femme Fatale but should we not be learning the video dance rather than her making one up and then all of a sudden Lady Ga Ga comes blaring from the next room and the penny drops - We're in the wrong class!!! None of us want to distrupt the class half way through so we carry on until the end. We then ask what the class we were doing actually is and it was Chick Flicks!!! Like Kirsty says Beyonce's good but she ain't no Lady Ga Ga.
Next time we'll make it to the right class and I'll have both feet for my shoes!! :)
Tonight myself, Kirsty and Jacqueline embarked on our first dance class. We signed up to attend Music Video: Femme Fatale.
At the ABC on friday night they played the song Five Years Time by Noah and the Whale, this song always reminds me of the lovely Eva and I had a wee look up to heaven for her!! Hope she's rocking it out up there!! xx
http://sixty-five-roses.blogspot.com/
) made me a gorgeous new headerand it didn't go with the orange background of my last one. So I have had to ask my wonderful friend Gary who fixed it the last time to help me again. I'm told that livejournal is a pain in the ass to sort out, so at some point I may have to change this to a blogger account or make a website of my own. I'll keep you posted so bare with me while Gary tries his hardest to sort it out for me.
In other new my bronch again showed no infection or rejection so I was let home to hang out with my lovely Greggor!! I also had a kidney ultra sound because my bloods have been a bit off the past couple weeks but the technician woman said they look lovely so no problems there. The fluid on my Xray had reduced from last week and I've to go back in 6 weeks time for another check up which will be nearly 9 months post transplant (oh how time fly's!!).
Team Glasgow's next organised event is a High School Reunion for my old year at high school plus the year above and below. It was originally a 10 year reunion but I had to cancel it because I took on far too much last year. It has now be re-arranged for 2nd of April, here's the poster -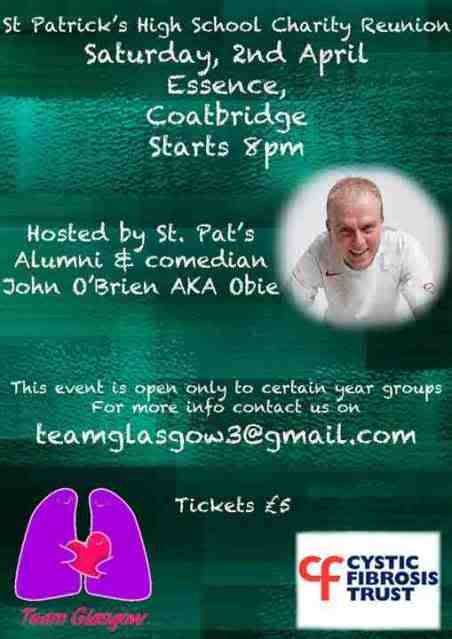 I was out last night with Team Glasgow's Kirsty her friends and Gregg. Here's a few pictures :)
(
ABC 14/01/2011
Collapse
)
I was thinking about how much my face has gone down in 4 or so months. This first picture was taken around 3 months post transplant.
(
3 months
Collapse
)
and then this last night -
(
7 months
Collapse
)
It's still not anywhere near what it was but we're getting there :)
(
Before Transplant
Collapse
)
I start my Photography class on wed and hopefully a dance class with Kirsty and Jac on Tuesday!! Time to get life rolling!!
V xx
I apologise for the ugly background on my journal at this moment but the lovely Megs (who's bog can be found here -